I have so much to talk about Cornerstone Bed and Breakfast that I'm going to break it up into several posts throughout the week! And so many wonderful pictures to share (I'll also borrow some of Kelly's pictures when she gets them uploaded because her camera is far superior to my own little one).

Before we checked into Cornerstone, Kelly and I stayed at another hotel in Philadelphia. I stayed alone my first night in Philly and Kelly joined me on Friday. And we both left with basically the same thought: Cornerstone Bed and Breakfast blew away a national hotel chain. There is just really no comparison of the two.






To start, let me tell you about one of the things that Kelly and I talked about after checking out of Cornerstone this morning: the level of quality. At the national chain hotel we stayed at, it was perfectly obvious that the rooms were just not taken care of. The shower in our room was pathetic at best. The first night I stayed, my shower actually caused a major leak in the lobby! Who knew. Well, it caused a service worker to bang on my door at about 10:30 p.m. in a strange town, and I was honestly scared senseless.
I've watched far too many horror movies.
Even after he fixed the drain, the shower itself barely had a flow of water coming out of the head. It was seriously like trying to take a shower in a water fountain. And with my height, I had to lean waaaay back to even wash my hair.
The room was dingy, the walls were thin, it was just…well, to be quite frank, gross.
But at Cornerstone? It was breathtaking.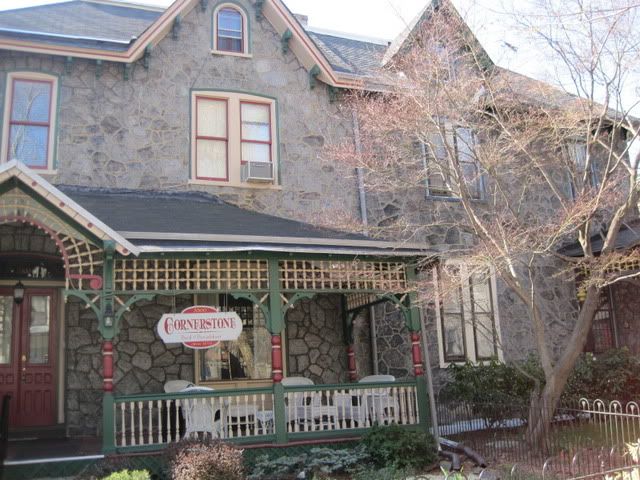 The owners restored a gorgeous 1870′s mansion into such wonderful condition. Like I posted back when we checked in, we were met at the door by the lovely Dennis and the wonderful aroma of hot cross buns being baked in the kitchen. HEAVENLY
(and they were are delicious as they smelled!). Dennis took us to our room (we stayed in the
continental suite
) and Kelly and I were in absolute awe at the attention to detail this family has put into the bed and breakfast.
This lamp was stunning; I meant to ask if this was a real Tiffany lamp. I'll have to email Chris and family to find out for sure!
At Cornerstone, they truly have taken the time and care to keep the bed and breakfast impeccable. At no time did we feel like anything was run down, out of order, falling apart, etc. Even with Steph and Jenni in the adjoining bedroom in the suite, it didn't seem like they were right on top of us (unlike the national chain hotel where we had to call security about 11:30 p.m. to complain about noise levels). We also felt like we were welcomed very warmly into their family. Dennis very happily gave us recommendations on where to go for food and sight seeing (sorry we didn't get a chance to try out White Wolf per your recommendation, Dennis…I'll hit it next time I'm there!). And we felt safe and comfortable while there. At no time did I feel nervous to walk out of my room downstairs to get a cup of hot chamomile tea alone (something I would not have dared done my first night at the national hotel chain).
Room after room of rich colors, gorgeous fresh flowers, hardwood floors, breathtaking stained glass windows…it was truly a sight to see.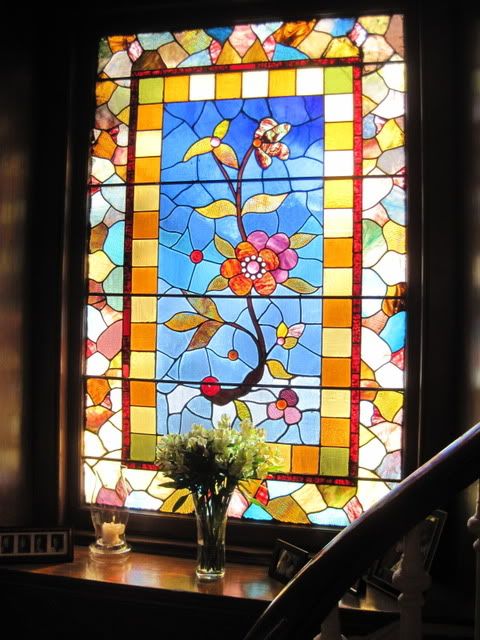 Our suite that we stayed in was absolutely immaculate. Located on the third floor of the bed and breakfast, it had a sitting room with a television and guest refrigerator, two separate bedrooms, a bathroom with double sinks and a separate room with the toilet, shower and tub. The beds were neatly made, the bathroom was luxurious. Beautiful tile floors and walls with an over sized bathtub with jets. A walk-in shower with glass that I swear sparkles more than mine does at home.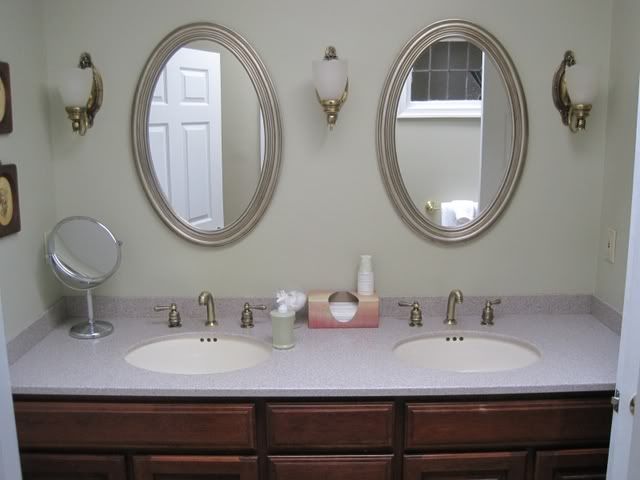 Please forgive the fact that I am only able to show the double sinks in the bathroom at the moment. I'm currently blogging from about 30,000 feet over Virginia and I'm having trouble uploading pictures. But a double sink for 4 girls was very appreciated!
And the caretakers at Cornerstone have thought of everything. Q-tips, cotton balls, cups for rinsing your mouth out were all there within arm's reach. No need to pack little toiletries while staying here. Also, the shower had an interesting item I had never seen before; a wall container that held shampoo, conditioner, and body soap! It was fantastic to be able to use their items versus having to take mine out (for future reference, I wouldn't even bother packing my own shampoo or conditioner, theirs was terrific!) and worry about them getting my bags all wet after repacking them.
The suite is a perfect room not only for a girl's weekend, but if you're a family of 4 staying in the Philly area.
The room Kelly and I stayed in had a queen bed, Jenni and Steph had a double bed. Also very perfect for children! The bright, cheery yellow in their bedroom with the adorable picket fence bed would certainly make my kids smile. And the lovely flowers and cool but inviting textures in our bedroom would make any adult feel right at home.
I do have better pictures of our bed. I took this shot the moment we unloaded our items in the room.
Kelly was talking to her husband while peeking out the window. She was sitting on a beautiful wood chest underneath the window!
I cannot say enough nice things about the suite at Cornerstone. I have at least ten more posts to do this week on their bed and breakfast (and so many more pictures! stupid inflight internet!), so please check back throughout the week to see more!
Are you interested in staying at Cornerstone Bed and Breakfast while visiting Philadelphia? Even if you're a Philly local, Cornerstone is truly worth staying at for a "home away from home" visit. Please visit their website at
www.cornerstonebandb.com
and check their availability. If you have any questions about my stay, please feel free to contact me. If you decide to stay with Cornerstone, please tell them Goober Monkey sent you!
This is my honest and personal review of Cornerstone Bed and Breakfast. All comments written here are 100% my own. I was given a free night's stay and was not compensated in any other way. I am already planning a weekend trip back to Philly with my family specifically to stay at Cornerstone! Again, a special thank you to Chris and family for allowing us to stay with them!